* may not actually be official. Minor technicality. Offer not valid in Alaska and Hawaii.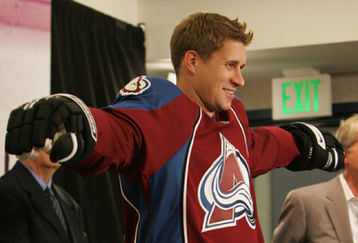 With the unveiling of the Avs official third sweater today (Just in time for the Holiday shopping season, surely that's a coincidence!), many Avs fans may be thinking of getting their very own sweater. Especially if this one looks good and they are looking for something that's not a Unipron.

There was a discussion on Mile High Hockey comments a few weeks back about former players, and when wearing a member of the Avalanche Alumni becomes a sweater faux-pas. It's hard to put exact guidelines on this, and there's some room for grey, but I decided to come up with some general guidelines to buying a current sweater, based on risk. Now there's risk to every single sweater, but buying some players sweater is a lot less risky than others. In For example, A classic Forsberg, Roy, or Sakic sweater will never be out of style. On the other hand, maybe it's time to give up on that Vaclav Nederost or Jaroslav Hlinka dream.


One comment, and I forgot who said it, said that any Avs player, current or past, is acceptable because some people don't have money to replace a sweater just because a guy is traded. Well I'm certainly sympathetic to that, but that's why it's even more important to make a wise sweater investment. Just because Brad Larsen was your favorite player from the '01 cup team doesn't mean you should have bought his sweater. Owning a Forsberg sweater doesn't make you less of a Larsen fan.

If it's an absolute MUST to have a certain player, but you don't want to take a risk on him, there's always the acceptable t-shirts with a players name on the back. Also, and I'll bold this because I don't want the point to get lost,

it is always acceptable to wear Avs shirts, hats, hoodies, and sweat-shirts instead of a sweater

.

Buying a sweater isn't a sign of being a "truer" fan, it's a luxury and not a must. Zubaz pants are, and always have been, a no-no though

.

If you took a gamble on that Ville Niemenan #39: retire it and go with the long-sleeve t-shirt if you can't afford another sweater.

Now ever sweater comes with an inherent amount of risk involved in it, but you can eliminate a lot of risk with a solid sweater selection.

The first rule of thumb is 125 career games with the Avs (in that number). Less than that and you're just playing with fire. For example the aforementioned Niemenan: 104 GP-Avs . Scott Young: 153 career Avs games, borderline but allowable (Bolstered heavily with 3 seasons as a Nordique under his belt).

So for current Avs here's the list (in order of riskiness, least risky to most risky) broken into 3 tiers. If a player can go into more than one category, I tend to place him in the riskiest (Or Marek Svatos would be in 5-6 categories):


Tier 1:
Only a major dust-up, like the Nylander thing in WAS, or felony charges can make buying a tier one sweater seem like a bad purchase later. If you don't have a lot of money, a guy from here is your best bet.

Near Slam dunk:


Paul Stastny



There could always be some blow up between him and fans/management. It's always a possibility. But with his lineage, his stats (nearly 1PPG) and GP (212) his sweater is already one you can wear for the next 15 years, even if he were to have already played his last game as an Av.

There's other things going for the kid too, his contract length and likeliness to be traded make him a safe bet as an

active

Avs player for the next 10 years. It might be awkward if you get one with an "A" and he turns into the captain, but that's a minor quibble. The safest bet on the Avs.

Examples for other teams:
Jonathon Toews - Blackhawks
Anze Kopitar - Kings
Evgeni Malkin - Penguins
Ryan Miller- Sabres

Old Warriors


Adam Foote




Milan Hejduk



Wearing either of these two sweaters will never go out of style in Colorado. Both have the Avs credentials, Foote's number will probably be retired, and Hejduk's should as well when he decides to hang them up. The only reason they are in a slightly lower category than Stastny is that both could retire within the next 2-3 years (Foote for certain, Hejduk's 50/50). If you want an active player, because you're trying to replace that Forsberg/Roy/Sakic sweater, well this is only a temporary solution until you're in the same predicament.

Still wearing #23 or #52 will never be a jersey foul.

Non-Avs examples:
Rod Brind'Amor - Hurricanes
Mike Modano - Stars
Mark Recchi - Bruins
Teemu Selanne - Ducks


The Top 6 Forward/Top 3 D


Not a league wide superstar or old horse stalwart, but a player that is crucial to the teams success, with the possibility of an All-star appearance here and there. Could also be a fan favorite (see below) but the scoring proficiency moves him up a notch. Perfect linemate for a superstar.



John-Michael Liles



The Avs have a long history of these guys (Lemieux, Kamensky, Drury, Tanguay) and have a couple players who are on their way into this role (Jones, Stewart, O'Reilly) but right now Liles seems like the only one to put here right now.

Non-Avs examples:
Ryan Kesler-VAN
Dustin Brown - LAK
Shawn Horcoff- EDM



The Hard-nosed Fan Favorite


The players listed here may not be the superstars, but they are integral parts of the team, and certainly are worthy of local praise. This may be a proficient PKer, "Pest" or overall solid blueliner. The Avs recently inducted Shjon Podein and Alexei Gusarov into their Alumni Association, and neither sweater would be a foul even today. (FYI: I have a Yelle Sweater).

Current Examples:


Cody McLeod

(141 Career Games!)

Unfortunately that's all the Avs have this year (that lack of Pest is a considerable weakness for the Avs). There are certainly some players who have the potential to get here, but don't have enough GP yet to be here (TJ Galiardi is a lock for this if/when he gets to 140 games played).

Non-Avs examples:
Ryan Callahan - NYR
Richard Park -NYI
Scott Hartnell-PHI
Steve Ott- DAL


Tier 2

This next tier has some risk involved in it. Most of the players here have potential but have issues that make them a bit risky, whether it's age, contract, games played, tradeabilityor general controversy. Some would still be acceptable down the road, but the potential remains for embarrassment.

The New Guy(s)
Free Agent/Trade Acquisition who looks like they are going to be a great player, but the sample size is still really too small to tell. These can be tricky, because they (and the off-shoot the young guns) can be extremely tempting, but there's still a reasonable amount of risk involved.



Craig Anderson




Kyle Quincey




Tom Preissing



Non-Avs examples:
Mike Knuble - WAS
Danny Heatly - SJS
Marion Hossa - CHI

The Young Guns
Very similar to the New Guys. These are players who have been raised through the farm system/draft. They are even more tempting because you've been seeing their names (in most cases) in minor league reports for a few years, anticipating their arrival. Or they were a high draft pick and everyone knows their name. That can make it even more tempting to prematurely buy their sweater, but remember. Even if they look like world beaters, there's still risk involved here. Young guys don't always pan out the way you expect.



Matt Duchene




Ryan O'Reilly




David Jones




Chris Stewart




TJ Galiardi




Ryan Wilson




Kyle Cumiskey



Non-Avs examples:
Tavares (NYI)
Hedman (TAM)
Stamkos (TAM)
Mason (CLS)

The Contract
Guys who play well and would certainly be up in Tier 1 if not for the fact that your dumbass GM paid them way too much, and they aren't living up to, or going to live up to, that Cap debilitating contract. You kind of feel bad for the guy, because it's not his fault a GM threw too much money at him. Nevertheless it comes with the territory. Good news is if he plays out his contract, then signs for less to stay with the team he instantly moves up the list. Or just plays here long enough he falls into the Old Warriors camp.



Scott Hannan



The Injury Prone
Talented, potential and BUT/IF are the three terms used most often when describing this player. Supremely Talented, loads of potential, BUT can he stay healthy. Doesn't include young players with less than 140 career games (like Stewart and Jones). The injury prone guy has played in less than 60 games/season in 50% of his career.

(none currently. Past Avs: Jordan Leopold)

Non Avs:
Martin Havlat - MIN
Marion Gaborik - NYR
Kari Lehtonen - ATL

Tier 3

These are players who cause the most controversy. A lot of people probably buy their sweaters thinking they are in one of the top 2 tiers, not realizing there are some major questions marks surrounding these players that could severely blow up in their face. This isn't to say they are bad Avs or bad players, just that things have the potential to get ugly a lot easier than with the guys above.

The Enigma
Talented, potential and BUT/IF are the three terms used most often when describing this player. Supremely talented, loads of potential BUT can he figure it all out? Doesn't include young players with less than 140 career games (like Stewart and Jones). The headcase players have likely been benched for lazy play at least once, but man THE POTENTIAL. Sometimes these guys figure it out, other times... nope.

Wojtek Wolski

Most are wondering why Svatos isn't in here, and that's because he'll come up below.



Non-Avs:
Anton Babchuk - CAR
Radim Vrbata - PHX
Carey Price - MTL

The Love-Hate
These players are loved by some fans, and hated by others. The divide between fans and haters is great, and these are the players who are the centerpiece of nearly every fan-on-fan screaming on the internet. Ultimately their own play determines their fate, as good play will silence their detractors, but bad play will embolden them, and vice-versa. Sometimes, even after good play, that divide never heals and their sweater can cause controversy. (This can be caused by the contract, and I'd say Hannan was in here last season, but his play has been soid enough to move him up)



Darcy Tucker




TJ Hensick



Clark and Budaj were nearly put here, but they are below. Don't ask why I put Tucker here and not those two, sometimes the difference is razor thin.

Non Avs:
I'm not sure, Outsiders have a tough time finding the domestically divisive players.

Trade Bait
Their expiring contract makes their tenure with the team extremely tenuous. Their skill set is desired, and they would make a nice additions to a couple clubs. Or there's just a log jam and someone's going to go. Maybe they have more than 100 games, and wouldn't be embarassing to wear later (remember Tanguay, Yelle, Drury, and Deadmarsh were all traded away and viable sweaters) but if you're looking for active players after this season, then maybe hold off until next season on this one.

Brett Clark
Peter Budaj
Ruslan Salei
Marek Svatos (the hardest player to place)

Non-Avs:
Alexandr Frolov - LAK
Ilya Kovalchuk - ATL
Martin Biron - NYI

WTF?
Fringe NHLers who spend the season on a plane between the AHL and Denver. Fine players, nice guys, but also dime a dozen players. Sure some have the potential to do better than this, others are great stand ins but not quite NHL caliber for their career. Healthy Scratch is their official position. But at this point buying one of these sweaters is kind of like announcing your own mediocrity. In fact the sweater that inspired this list is none other than one I saw of Jaroslav Hlinka's #17, and I had to do a double-take.

Phillipe DuPuis
Matt Hendricks
David Koci
Brian Willsie
Ryan Wilson



Your own name
Listen I don't mind people syaing "We" when describing their favorite team. You get emotionally attached, and in some aspect the journey of pro sports is a journey of the fans and players together. Certainly I think it's ok for fans to emotionally associate with the team. But you are not on the ice playing. The Coach, Trainers, Scouts, and a whole host of folks who are eligible to get their name on the cup don't get their own personalized sweater... neither do you. These are only conditions that wearing your own name on the back of an NHL sweater is allowed:

• A close relative who plays in the NHL also has that name.
• The team gives you the personalized sweater.
• You are actually playing in a game with the sweater (i.e. your beer league team uses Avs sweaters)
• You are under 13 years old.

It pretty much follows the "Bringing a baseball glove to a game" rule.

The Tyler Arnason Memorial
Players so despised by their own team's fans that wearing this home team sweater is like picking a fight. You are likely to get your ass kicked, and you're wearing the home colors.

(no one this season... yet)

Non-Avs:
Nylander-WSH
Heatley - OTT (yes he's last season)
Toskala - TOR

Notice there are no Flames or Wings in the Non-Avs parts. That's because there's never justification for buying one of those.