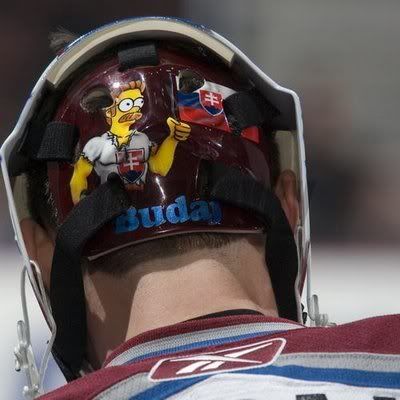 I haven't read anything written by anyone else yet on the game last night, but I already know what's going to be written. The focus is going to be on Peter Budaj and his atrocious game last night.
And frankly, it should be.
Anyone who's been reading me for a while knows I'm a Budaj backer. I
brazenly
backed him last yeah with my
I believe in Budaj campaign
, and he didn't have a good season. In retrospect, starting a goalie confidence campaign
inspired by a fictional super villain
who originates as
praiseworthy savior, goes crazy, and becomes a nutcase dichotomy probably wasn't the best idea. Through all the trials of last year, and last night, it seems oddly appropriate.

The guy has ability, and that's painfully obvious. Last night he made a few saves that were better than excellent. He had a glove save on a Sheldon Souray shot that was fantastic, and made several nice saves on a couple separate penalty kills. This is why some people (most prominently myself) thought he had what it takes to be a starter at the beginning of last year, because he has the raw ability. On the other side of the coin, he gives up back breaking soft goals at exactly the wrong time. Last night he had 2 softies that kept Edmonton in the game, and it came back to bite the Avs in the end.
The first goal was a weak wrister that got through the pads, and should have been absorbed, and the second goal was just terrible. Those two goals allowed Edmonton the ability to come back. If there's one word that describes Peter Budaj, "dichotomy" is it.

And that carries over into the fans. There's not a more polarizing figure than Peter Budaj, to the point that I'm ready to start calling him "two-face". Even this season he's had two starts, an extremely solid outing against the Red-hot Phoenix Coyotes and then last nights acid washed psychosis-inducing clunker. It's no surprise that there's two fan camps for Budaj, there seems to be two Budaj camps within Budaj.

At the end of the night though, last night felt just like last season. Not all of that can be placed on Budaj, the Avs did blow a chance to effectively ice the game by not-converting a long 5-vs-3 and they were outplayed in large stretches by an Edmonton team who really isn't all that good. But when Edmonton scored with 15 seconds left in the 2nd period to cut the lead to 4-3, I think everyone knew Edmonton was going to tie it up, and a large part of that was how poorly Budaj was playing last night.

Last season on Altitude Peter McNab told an anecdote about a goaltender coach (whose name escapes me) who was asked "What's the difference between an AHL goaltender and an NHL one?" and the coach answered "An NHL goaile is good 9 times out of ten, and AHL one is good 8 out of 10". Budaj has the tools to be an NHL goaltender, but his consistency is off. That has been the cause of his downfall to backup, and if he doesn't solve it soon it's going to get him out of the league. Because at the end of the night the difference in the game was that Budaj was soundly out-played by Edmonton back-up
Jeff Deslauriers, and he was pretty awful himself.