I think the first really big coaching decision for new coach Joe Sacco will be whether to keep 18-year old Ryan "Radar/Snook" O'Reilly after the first nine games as an Av, or send him back down to the Erie Otters of the OHL (because he's 18 he can't be sent to the LE Monsters).
Obviously this decision should be made over the next 9 games, and not immediately, but if I were Sacco, and more importantly GM Sherman, it would take some terrible play by O'Reilly for me to keep him from going back to Erie.
First of all let me say
I love O'Reilly
. So much so that I briefly considered buying an Erie Otters sweater with his name on the back, until I realized the Otters sweaters are more hideous than the unipron. Don't forget I wrote a pretty glowing profile on him (linked above.) I think he was a great draft pick and I think he's going to be a very very good third line center for a long long time. So this is no knock on O'Reilly.
Let me also say that because they weren't televised, I have no idea how O'Reilly has fared against NHL level competition. However I did see him at camp back in July, and he had impressive skills. It was pretty obvious that he needed some work on his skating a little bit.
A couple weeks ago DD over at MHH did a nice analysis (with the focus on Duchene) about whether being too young effects a players development. His study was inconclusive, but it suggests
that the real answer is no, not at all
. That coaches are pretty good about figuring out whether players are NHL ready and making the appropriate call.
James Mirtle has an interesting point about this
. If O'Reilly spends one year here, that's one year burned of his entry level contract and he will be hitting unrestricted free agency one year earlier. The core of this group the Avs have assembled should be ready for a cup run in 3-4 years, and burning one of those cheap years playing 3rd and 4th line minutes (where O'Reilly is likely to be this season) may not be the best use for him. It may be better to let him play 9, then sign a veteran 3rd line center to take over for the rest of the year (Dominic Moore is still available by the way).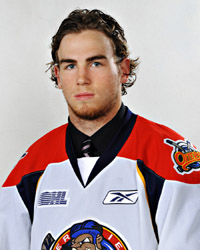 It's funny because I think O'Reilly will be the third line center of this club for years, which kind of contradicts my thinking that he shouldn't be relegated to third and fourth line minutes. But in the future, when he develops, I think he'll get third line minutes, plus time on the PK and PP. I'm not so sure he'd get those minutes right now. I see the Avs using him like the Pens do Jordan Staal, 3rd line center extraordinaire.
But I'm not sure O'Reilly is ready for all that responsibility quite yet. And even if he is, that would relegate Galiardi to 4th line minutes, stunting his development. Again, the next 9 games will be telling, but unless he shows he's really ready for that Staal-esque like role on an NHL club, I wouldn't keep him up just to play 3rd line ES minutes and burn a year of his contract.
Addendum:
Dater is reporting
that O'Reilly
might
start on the 4th line. I'm curious to see what his ice-time will be, but if he's going to be relegated to the fourth line and not get any ice time I think the Avs should send him back to Erie after his 9 games.