The NHL awards were last night and again the forgotten time zones (Central, Mountain, and Pacific) were shut-out... again. 0-7 (
Full results here)
and
Mirtle
has a good breakdown of the voting
Of the 7 trophies that hockey writers vote on (Hart, Vezina, Norris, Calder, Lady Byng, Selke, Adams. I'm not going to include the Masterton, because it doesn't really belong in this complaint) here are the non-East time zone winners of any trophies:
Hart: Joe Thornton SJS/BOS (2/3 with SJ, 1/3 with BOS) - 2006
Vezina: Mikka Kipursoff CAL - 2006
Calder: Patrick Kane CHI - 2008
Adams: Alain Vigneault VAN - 2007
The time zones that hockey writers forgot are now 4 - 24 (I'll count Thornton's like a shootout win) for a robust winning percentage of .142. If this were an NHL team that would work itself out to about a 24 point season. The worst team in NHL history (the '74-75 Capitals) finished with 21 points at 8- 67 -5.
There are some legitimate reasons for this discrepancy. The best 4 players in the world, and certainly 4 of the best 6, all play for teams on the right coast (Malkin, Crosby, Ovechkin, Zetterberg), so the FST teams (forgotten standard time) are unlikely to win that award. Niklas Lidstrom is nearly a lock for the Norris almost every single year, so there's another award the FST teams won't be winning. but the other 5 trophies should really be toss-ups nearly every single year.
Les Ailes de Rouge have overall been the best team in the Western Conference, and the league, since the lockout so those few writers who actually care about western conference teams have legitimate reasons to vote for them.
Also there are 17 teams based in the Eastern Time zone compared to 13 based in the Central, Pacific, and Mountain.
So I want to acknowledge with all that that there should be an edge to EST teams, because of the numbers and they have some fantastic individual players as well. But that can't even come close to accounting for the entire discrepency. Even taking those two trophies out of the equation the Western conference is still 3 - 17 (.15 winning percentage).
Every year the same argument applies
well it's hard to argue against any of the guys that won. they are all deserving
. I can't argue with this. Everyone who won a trophy this season was deserving. The problem is that every season there's usually more than one deserving candidate. The margin between the top 2-3 for most trophies is usually along the lines of splitting hairs, yet those hairs nearly always split towards the right coast. The only way a Westerner can win it is if there's the rare occasion that it's a no-brainer.
I don't want to point out which players
should
have won over other players, because I don't want to take anything away from the players who won. They were all deserving.
So this year I'm making a point to do more than complain about it... here's my FST awards: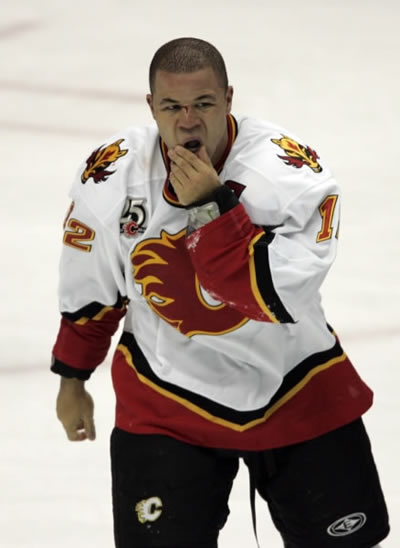 Hart:
I have no qualms with Ovechkin winning the real Hart. But here's part of the problem, The highest a FST player
finished in the voting
is 9th. I realize the top-6 scorers in the league were in the east, but it still is a bit fishy. Meanwhile there were some pretty good players on the Western side of the Mississippi.
Jibbles Hart winner:
Jarome Iginla
Runners-Up:
Joe Thornton, Ryan Getzlaf
(
Side note
: I want to point out that it's not just FST teams being completely shunned, as non-Washington DC Southeast Teams pretty much get shunned too. Ilya Kovalchuk, one of the best players in hockey, had 43 goals and 91 points this season and didn't receive a single vote for the Hart. Marion Hossa (71 points, 40 goals), received votes. He didn't deserve the Hart, but 0 votes! that's fucking embarrassing Hockey writers. I have no explanation for Marc Savard of Boston only getting 1 4th place vote, which is a shame too.)
Vezina:
One of the knocks on Niklas Backstrom in the voting this season was that he is a product of his teams style of play. That may be true, but it never seemed to hurt Marty Brodeur in the voting. I don't have a problem with this logic, I have a problem with this logic being applied with the same consistency used in the NHL's wheel-O'Justice. Again, this isn't a knock on Thomas or his deserved Vezina, but Backstrom deserved more than to be idely dismissed (1 first place vote).
Winner
Niklas Backstrom-MIN
Runners-Up
Evgeni Nabokov, Roberto Luongo
Norris
Chara and Green had great seasons, and Niklas Lidstrom is the best defender on the planet, but I can't think of a great defenseman that gets less national respect than Scott Niedermeyer. In all reality Lidstrom and Nieds should battle for this trophy every year. Of course the argument against Niedermeyer is that he was - 8, which is a good argument until you remember that
± is the most misleading junk stat of all time
.
To judge someone's defensive ability I like to look at PK ice-time, which isn't perfect (favors undisciplined teams over Disciplined ones), but it shows how much the coach trusts that player on defense. To Chara and Lidstrom's credit they both led their team in SH Ice team... but so did Scott Niedermeyer. And he had 59 points to boot. This earns him the nod over Dan Boyle (3rd on his team in SH ice time) and Shea Weber (5th on his team)
Norris
: Scott Niedermayer - ANH
Runners-up
Dan Boyle, Shea Weber
Calder
The one place where FST teams actually get respect, as Patrick Kane got the award last season, and there were 6 FST teams in the top 8 of voting. And really Mason is in the Eastern time zone, but it's not like Columbus fits the mold of East time zone teams getting media attention, so I'm not going to bitch about the voting at all here. The Calder has become the "Token Western Conference award". But Since I'm doing this for non EST teams, we'll award it anyways
Calder
: Bobby Ryan ANH
Runners-Up
Drew Doughty-LAK, Pekke Rinne -NSH
Selke
This and the Lady Bing is probably the hardest trophy to come up with criteria on, which is why they tend to have dynastys. People award one player and, unless that player really depreciates (and by that I mean unless voters see a bad ±), just continue to vote for him. In reality this award should change hands every year, since the difference in defensive abilities of forwards is razor thin.
the Western Conference has always been the more defensive conference, and there's no shortage of good defensive forwards. Personally I think it's a toss-up between Ryan Kesler and Mikko Koivu.
Selke
Mikko Koivu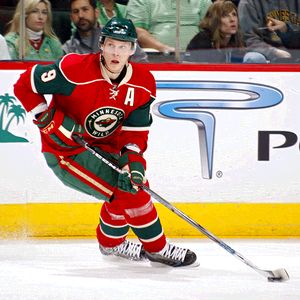 Lady Bing
Like the Selke, it's pretty difficult to determine who the most gentlemanly player is, and really there are multiple gentelmenly players that play the game well every single season. This award should change hands every season. this isn't to knock Pavel Datsyuk, who is certainly deserving, but really there are plenty of worthy candidates. From the FST I would put these as candidates: Patrick Marleau, Milan Hejduk, JP Dumont, Pavel Demitra, Andrew Brunette.
Lady Byng
: Patrick Marleau
Runners-up
Milan Hejduk, Pavel Demitra
Jack Adams
: another award that voters usually do an ok job with the Western Conference voting. It's pretty easy to look at the standings, see who improved and vote for that team, and doesn't really require anyone to actually watch the teams to cast a vote.
I thought Todd McLellan did a fantastic job with the Sharks this season, and got a little unlucky in the playoffs (which doesn't matter for this). I thought Joel Quenneville coached the Blackhawks well (that team fit his strengths perfectly). I thought Barry Trotz did a phenomenal job in Nashville. He lost his most dynamic forward to the KHL and lost his starting goaltender in free agency, yet he kept his team in playoff contention throughout the season. I know it's not really kosher to vote for a coach whose team misses the playoffs, but Nashville should have finished near the Avs.
Jack Adams
Barry Trotz
Runners Up
Todd McLellan, Joel Quenneville, Andy Murray.